The build
The decision was made to first build a prototype with the parts from the small (6.5-inch) wheel hoverboards, and work up to a more rugged 'around the farm' rover on a second go.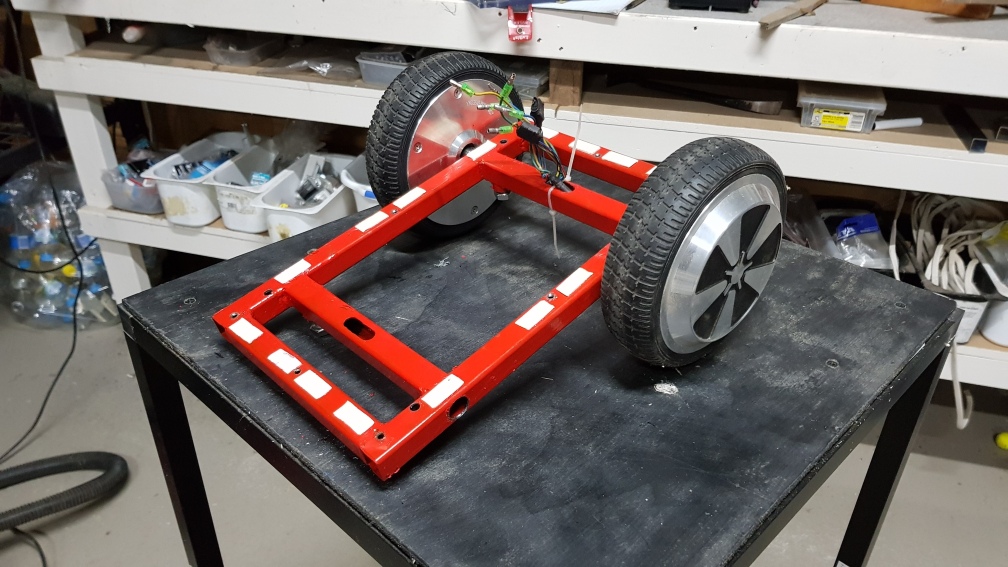 Base
The base is mild steel square tubing 20mm on the outside, with a thickness of 1.6mm. This leaves 16.8mm on the inside, which just fits the 16mm axle of the hoverboard wheels comfortably. A 16mm drill was costly, but a good buy. The base was drilled, welded and very roughly painted (it's only a prototype).
Wheels
The flat of the axle can be held in place by a 10M bolt on the base of the rover, and the wires (which go through the axle can be fed up through a hole in the axle tube. Be warned that this is tighter and messier than it looks.
Be very careful to file the inside edges of the frame as smooth as possible around the middle slit. I stripped a few wires to the metal pulling them through. Embarrassing and messy. Take care.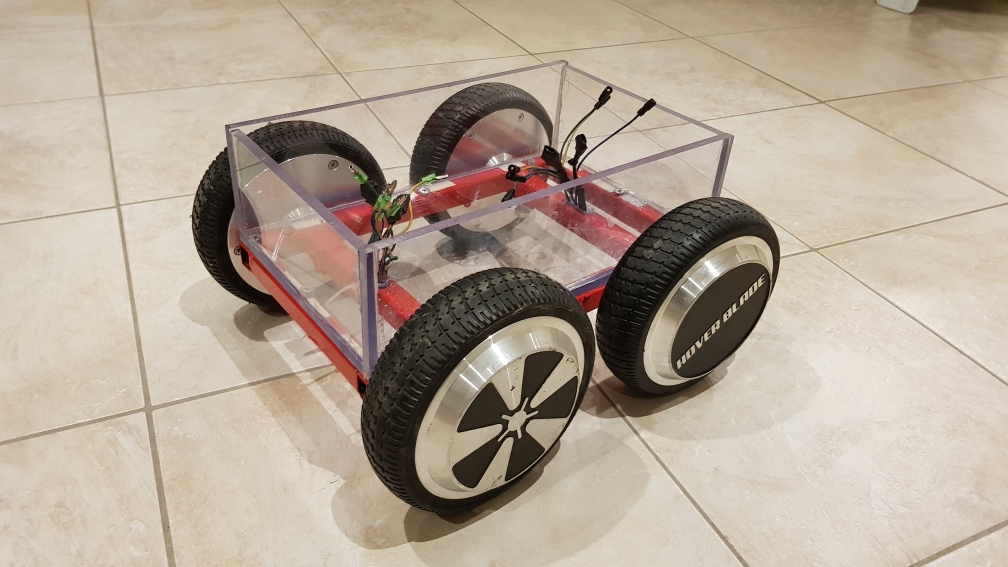 Box
There are many ways to skin a cat-girl robot, but 8mm (clear) perspex worked a treat for this robot. This is quite strong, and 8mm can be easily tapped to make threads to hold components (battery, controller, processor, etc) into the box. Clear perspex also simplifies debugging - it's easy to see which lights are on, or if wires are loose in the box. Unfortunately clear perspex also shows up all of the mistakes, which can normally be quietly concealed with an opaque box. Life is a circuitous learning journey.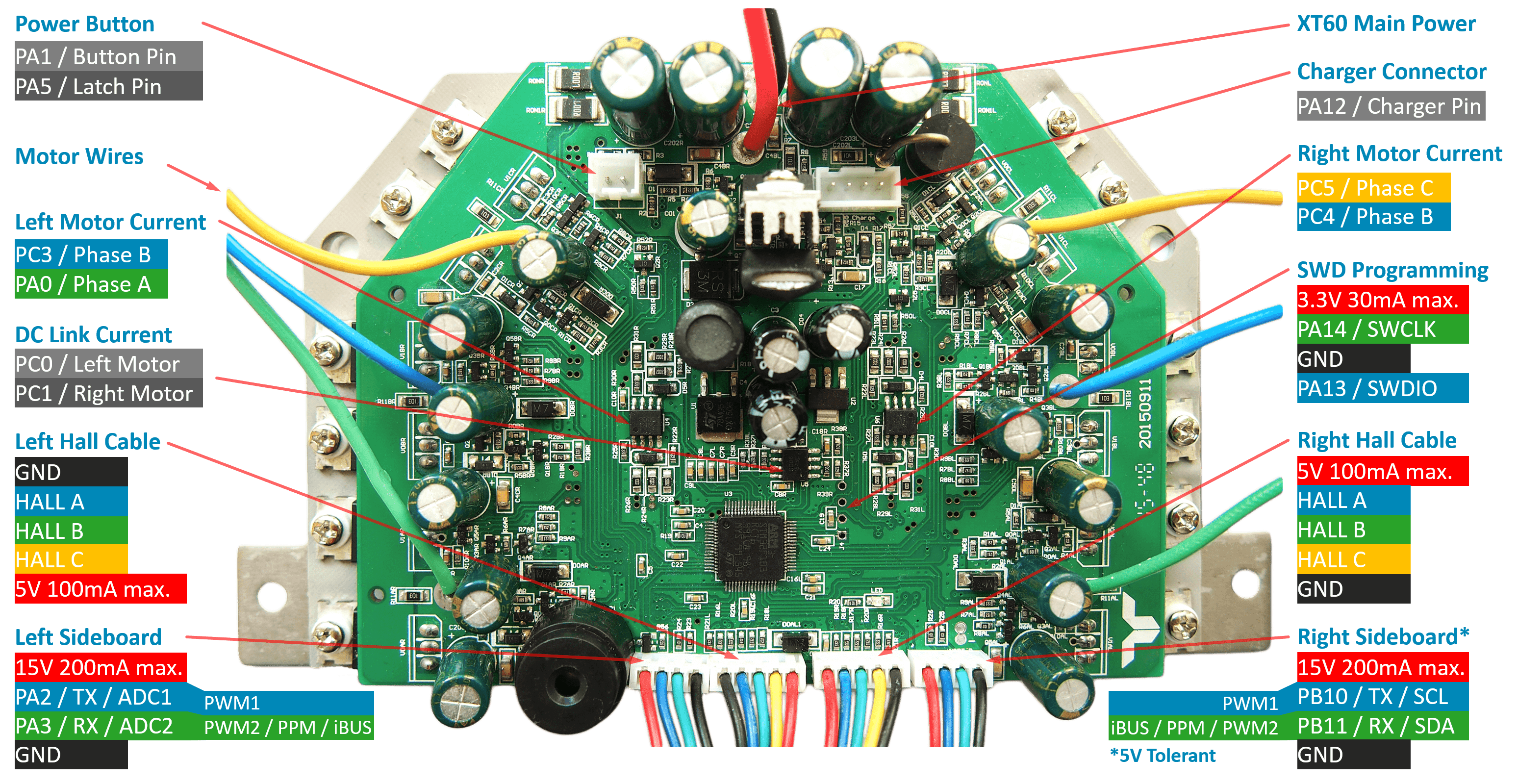 Drivers
Fortunately in my purchases I ended up with two first generation mainboards. One controls the back wheels and one the front. These were reflashed as described on the hoverboard page.
Bumpers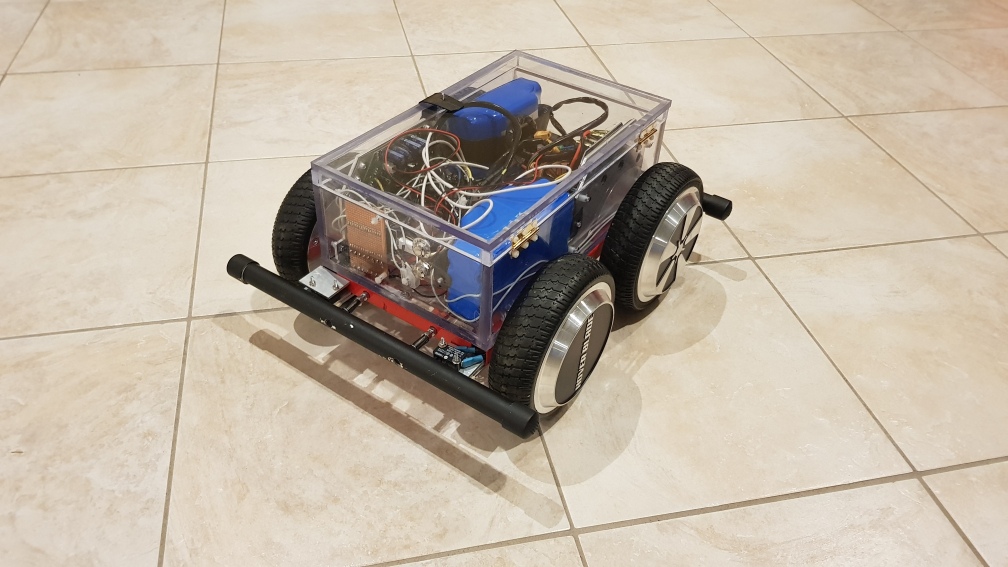 Collision detection can be done with bumpers and micro-switches. Spray-painted PVC pipe is cheap, effective, and may protect the rover in moderate collisions. An appropriately positioned micro-switch at each corner not only allows detection of the most common collisions, but also allows enough feedback to enable some simple collision strategies (eg like backing away from the object). This arrangement also detects if a bumper is caught on something and the rover is trying to pull away from it (though the escape algorithm in this case becomes a little more involved).
This is untested, but the following seems intuitive: If a single corner bumper is in-collision, reverse the wheels on that side, while stopping the wheels on the other. This will reverse out of a simple corner collision, and also tend to drag the rover sideways away from anything catching the bumper on the wrong side. Real-life mileage may vary.