General application
Normally farmers use massive booms for general spraying of pesticides (and fertilisers). Humans are expensive and large tractors, while extremely expensive, are actually cost effective if labour costs are high. However, automation can work on a much smaller scale.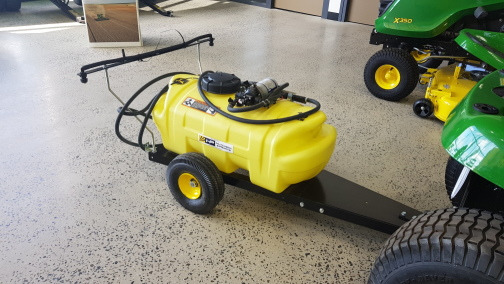 This is a small spraying rig designed to be towed behind a small garden tractor. It can spray pesticide (or liquid fertiliser such as Seasol) over a large area, albeit slowly.
Spreading liquid evenly over a large area is actually quite a tricky thing to do - it involves careful flow-rate calculations and, to do the job properly, probably several passes over the same area to even the distribution, and sometimes even carefully marking of areas already covered.
Incorrect application amounts are about more than just wastage. Some pesticides are very harmful to crops or livestock in larger quantities, and also risk polluting the environment.
A spray trailer could be attached the rover, and it could be used to spray the house paddock, or the other paddocks. This would have several possible benefits.
A human doesn't need to breathe in the chemical being sprayed (though there is still the issue with residual chemical being left in soil, plants, food, and the environment).
The chemical could be applied more consistently - as the rover path and rate of spray can be adjusted by more accurate means that human estimation and memory.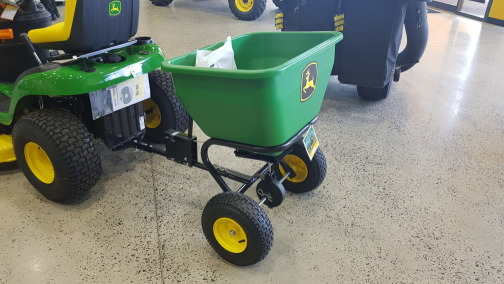 This is a small spreader rig designed to be towed behind a small garden tractor. It spreads fertiliser or coarse seeds over a large area.
Solids too are hard to spread evenly.
Normally both of these would be considered to too small for a farm because of the excessive time required sitting on a tractor - the most expensive thing to buy is human labour. However they are ideal applications for an autonomous rover. The rover can simply tow the applicators over a pre-determined course - as fast, as slow, and as often as required.
In the case of the spreader, the rate of use is determined by the rate of wheel turn (and the manual rate lever, which could be replaced by an actuator In the case of the spray rig, the flow rate can be adjusted for speed (as determined by a GPS) by control of the electric pump.