Process

Irradiance meters are quite expensive. Irradiance meters which do logging are even more expensive. It should be possible to log solar irradiance with a small solar panel and an Arduino.
The following graph shows the relationship between voltage and current for a typical photovoltaic panel, with different irradiances. Clearly current, voltage and power all decrease with reduced sunlight, but the relationship is interesting.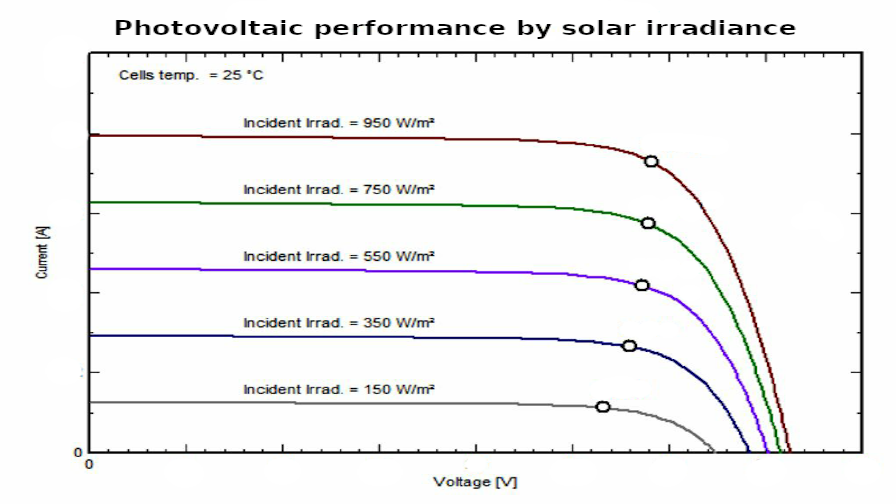 The current (A) and voltage (V) scales have been removed to make this a generic graph - most photovoltaics will have very similar curves, just with different scaling on the axes.
In measuring the incident irradiance, it might be tempting to just mount a solar panel and measure the open-circuit voltage, but we can see that it is not linear. (look at the points where the curves cross the (horizontal) voltage axis). A better measure is the closed-circuit current - (look at the points where the curves cross the (vertical) current axis). This is the current (Amps) which will flow if the positive and negative on the panel are shorted. These values are quite linear with respect to irradiance.
Arduinos (such as the Nanos) have pins which can measure 0 to 5V, but no way of directly measuring current. This can be done with an an Arduino add-on current sensor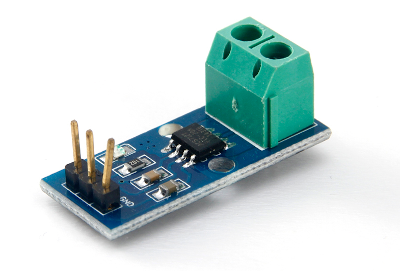 but basically this will just put the current through a shunt (low ohm resistor), and measure the voltage. So putting an appropriate resistor across the photovoltaic terminals and measuring the voltage should do just as well.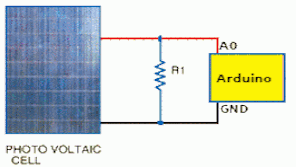 Examine the red line on the following graph.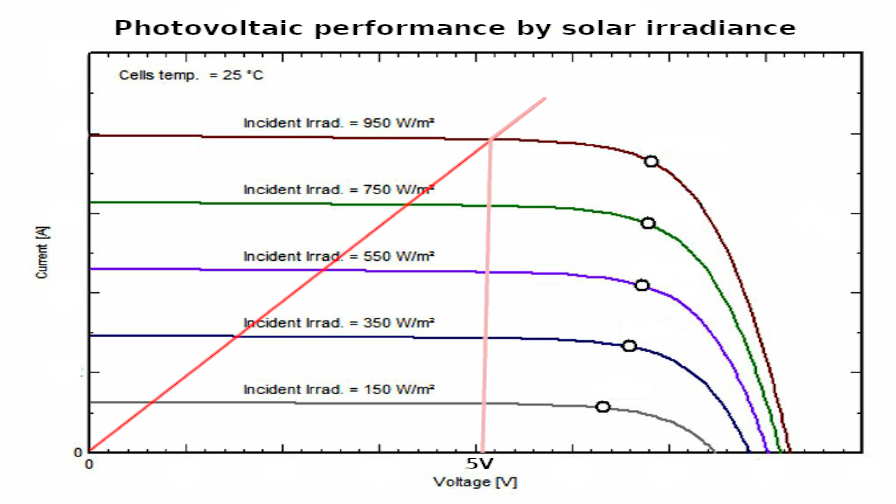 The slope of the red line is the conductance (ie 1 / resistance) of the resistor. So the resistance (Ω) must be
small enough that it intersects only the straight part of the curves (ie current < voltagemax / currentmax or Ω < Vmax / Imax)
never result in voltages more than 5V (for a 5V Arduino) (ie resistance < 5 / currentmax or Ω < 5 / Imax)
have a maximum value which is reasonable measurable for an Arduino - less than 1V for full sunlight seems a bit low for accuracy and precision (ie resistance > 1 / currentmax or Ω > 1 / Imax).
A good start would be to a solar panel which is rated at more than 5V, and use resistor of 3 / currentmax Ω.