Simulation one - adaptive infill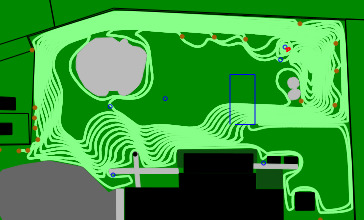 This is a mowing simulation using a 'stake dropping algorithm'. A left-wall-hugging rover starts at a boundary, and works its way around the mow field. The boundary can be a combination of a virtual fence, and real obstacles (including real fences). The rover drops (virtual) stakes as it moves around, and hence knows where it has mown. It treats the stakes as obstacles when it meets them next time round, and hence should gradually mow towards the center.
The rover here is the red rectangle (towards the north east), which has gotten stuck in a local island towards the north east. This one gets a fail - it is too susceptible to trapping itself. Also it's pretty easy to thing of situations where it will fail.